When it comes to creating a website, small business owners and entrepreneurs often look for a DIY website builder to help them get the job done for two reasons:
They need an affordable solution
They have limited or no technical skills to properly code and design a website
Before you start exploring DIY website builders though, you need to know what you want your website to do for your business.
Why work on building a website in the first place?
Who is the website for?
What will your ideal clients want from your website?
What specific business problem will your new website help you resolve?
How will this website make your customer experience or product more valuable?
Clearly defining your website objectives will help you decide which DIY website builder is right for your specific business needs, rather than blindly choosing a site builder because it's cheap, popular, or the one with the most features.
Now that your intentions are set, you should remember that every DIY website platform is NOT created equal. As you start researching, make sure you consider the following questions before making your final decision.
12 Questions to Ask Before Choosing a DIY Website Builder
#1) Will this site builder grow with me as my business grows?

If you're just starting out, you may only need a few basic pages and a blog to get started, but what happens when your business expands and you want to add new products, sell online courses, set up an e-commerce store, or add in new features like an event calendar or portfolio?
We see so many entrepreneurs set up a website on a platform that works for them now only to find themselves limited and frustrated because they didn't consider how they could grow out of their website.
Bottom line: make sure you choose a DIY website provider that can scale as your business scales.
#2) What's the learning curve for creating a website on this platform and the technical skills needed for maintaining it?

Every DIY website builder makes it "easy" to set up a website without any coding or design skills, but, inevitably, there's a learning curve in trying out any new technology or software. Since time is money, you want to consider which platform will have the shortest learning curve while also providing you the opportunity to grow.
Consider:
Can I easily navigate the backend of my site (my website dashboard)?
How much time will it take to get the site set up initially?
After I get the site set up initially, how hard is it to add new content like blog posts, sales pages or new products?
How hard is it to add-on new features like e-courses, memberships, or other widgets?
Bottom line: make sure the website platform is easy to use, yet robust enough to grow into.
#3) Does the site builder offer quality design options that are flexible?
"In the digital era, design sits at the core of amazing brand experiences. Smart organizations are realizing that embedding design into business practices is now a necessity in order to create a deeper loyalty among customers, and ultimately to make an impact on their business results." – Adobe
Since most business owners don't have a background in graphic design or website design, choosing a website builder that can offer layouts, templates or editable page sections is helpful.
Some templates, however, can be rigid and limit your ability to effectively market your products and services, so make sure you can rearrange design elements or page sections as needed. For total flexibility and customization options, website builders with the option to add HTML or CSS codes are preferable.
Bottom line: Choose a DIY website builder that offers beautifully designed web pages with the flexibility to customize it, if needed.
#4) Is the website responsive and mobile-friendly?

Responsive design uses fluid widths so that the site layout will adapt to the screen on which it's being browsed.
…And it's a big deal!
Responsive design is no longer a "nice-to-have" feature and is now a "must-have" feature. As of April 21, 2015, Google started rewarding sites and giving preference to responsive websites in its search engine result pages.
The reason the search engine giant is giving preferential treatment is that "only 39% of a user's time is on a desktop platform and 61% of a user's time is on a mobile platform", according to Global Mobile Report.
Bottom line: Make sure the site builder you use includes responsive design — meaning the pages are designed for not only desktops but also for mobile and tablet user experiences!
#5) What tools are available to optimize my website for search engines (SEO)?
These days it's not enough to have a beautifully designed, easy-to-use website in order to be found online.
If you build it, they will not come.
Out of the box, no website builder is "search engine optimized". In order to be indexed on popular search engines and rank highly, you need a DIY website builder that gives you the flexibility to have more control over how Google indexes your site.
Bottom line: look for a website builder that allows you to:

Edit meta descriptions and titles
Choose a focus keyword
Control whether or not pages are indexed by search engines
Edit the breadcrumb navigation
And edit your sitemap

You want total control when it comes to ranking on search engines.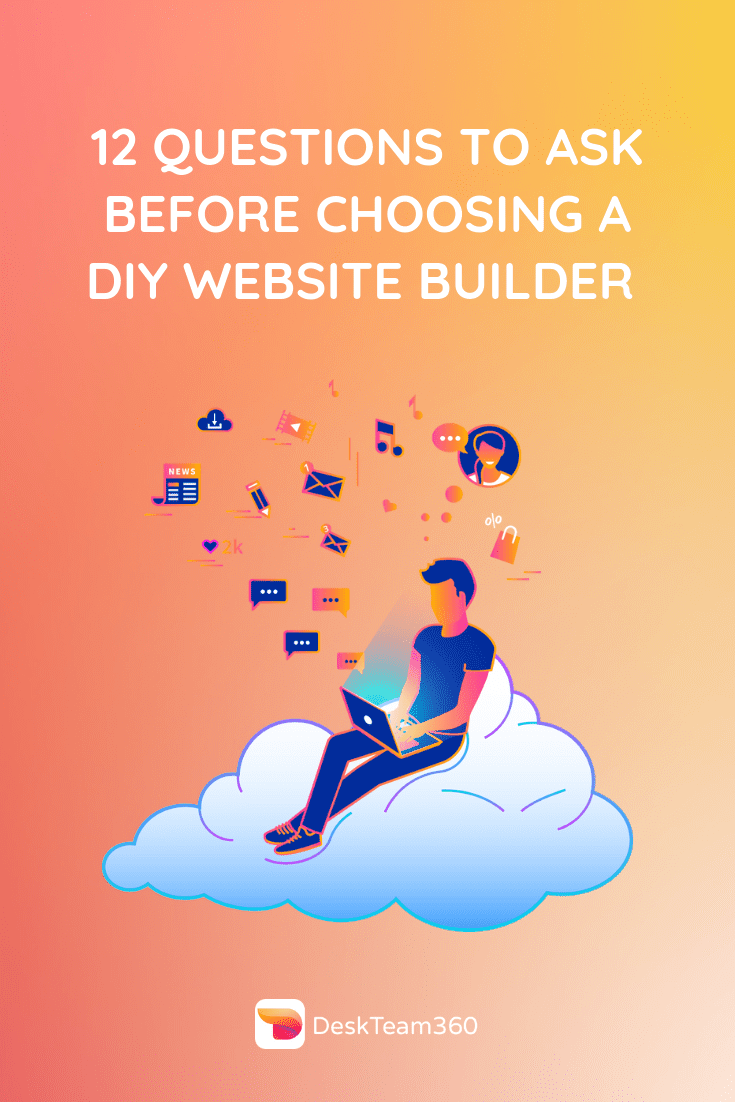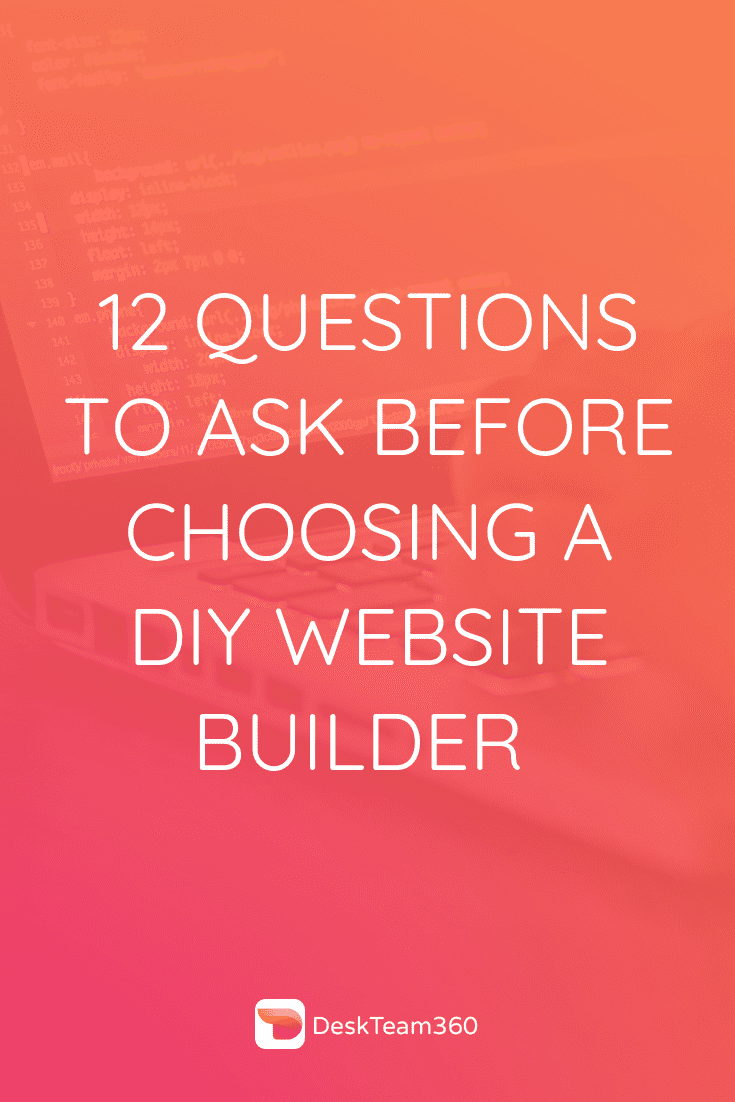 #6) How can I get website support if I'm stuck?
An intuitive DIY website builder should empower you to do things yourself, but what if you get stuck. How can you get support?
Every site builder offers some level of support whether by email, chat or phone. What's important to consider is how do you prefer to get help when you're thwarted or frustrated?
Do you want a library of self-paced tutorials or e-courses teaching you how to use the platform?
Do you want to speak to a real person by appointment or through a support team?
Would you like to send in a email support ticket or chat online?
Would you prefer to have an account representative or a friendly face you know you can count on?
Bottom line: you need a backup plan. it's never fun to feel stuck when creating your own website, so look for a site builder who delivers superior customer support that will help you.
#7) Can I use my own domain?

With every site builder, you'll build on a temporary domain that looks something like https://example.domain.com. Once you're ready to launch your site, you'll want to send traffic to a frontend domain that looks something like this https://www.companyname.com.
When looking for a website builder, make sure you select a DIY platform that allows you to use your own domain purchased through a domain registrar like GoDaddy, Google or NameCheap.
Domain ownership is the biggest concern when using one provided by your DIY website builder. If you want to transfer the domain away from your current site builder to go to another platform, you don't want to worry about your domain name being held hostage. It could impact your search engine rankings and entire business.
Bottom line: find a website builder that allows you to use your own domain. If you do wind up using a domain name provided by the site builder, check the transfer policy first.
#8) Does this DIY website builder offer unlimited hosting?

Most cloud-based site builders include hosting as apart of their monthly service fee, which means your website is hosted on the website builder's servers. But beware of site builders who limit your storage or your bandwidth.
Bottom line: Aim to find a platform that provides unlimited bandwidth or storage.
#9) Will my site be safe from hackers, malware and other security risks?
Securing your website is very important; especially for online marketers who rely on their website to bring in the bacon.
Your site builder's hosting services should cover security protection to prevent your site from malicious attacks. As long as your website builder includes an SSL security certificate (which ensures that your visitors can access a constant, secure connection on every page of your site), is updated regularly, and is hosted on a secure network you'll be fine.
Bottom line: security features most likely won't be a major differentiating factor between the DIY website builders, but do your research before signing up!
#10) Does the site builder integrate with other applications I use in my business?

If you use an email autoresponder, customer relationship management system (CRM), require credit card payments or use other critical applications to successfully run your website and business online, make sure the DIY website builder syncs accordingly.
The last thing you need is to create your own website only to find out one of the key pieces of software doesn't integrate properly.
If you don't have 3rd party integrations right now, remember, as your business grows you may need one or two and this will become important.
Bottom line: make sure the website builder you choose integrates with big name 3rd party applications seamlessly.
#11) What analytics and reports are available to measure my website performance?

Since you're creating a website on your own, you need data to give you unbiased feedback about whether or not your design and/or content is resonating with your visitors.
Make sure to research what reports and data can be made available within the platform. If built-in analytics doesn't exist, don't worry. As long as the DIY website builder integrates with Google Analytics, you'll be all set.
If you choose a website builder that allows you to add code, you can also use 3rd party tools like MouseFlow, TruConversion and Heap Analytics to help navigate what's working and what to improve on your newly built website.
Bottom line: data is critical for your website, especially since you're doing it yourself. Make sure the website builder includes robust data and reports or integrates with Google Analytics.
#12) Will the monthly website fee yield a return on investment (ROI)?

The monthly costs for even the premium plans on DIY website builders are extremely affordable, but you should always consider your return on investment before deciding on a plan.
The most important thing most business owners forget is that time is money. Building a DIY website requires your time and a lot of it to set it up and also maintain it.
So consider:
What is your time worth to your business?
If you take on a DIY website project, what tasks or project will you not be able to tend to during that time?
Bottom line: select a DIY website builder that works with your budget, will yield a return on your investment and ultimately be the best use of your time and money.
Conclusion

Before rushing into choosing a DIY website builder, make sure you consider…
Your website objectives and intentions
Your growth plan and the website's ability to scale with your business
How easy the website is to use and maintain
Your website's design — you need pages that are beautiful, flexible and responsive
How to have the most control over your search engine optimization (SEO) features
How you can get help when you're stopped
The importance of using your own domain
The importance of hosting with unlimited bandwidth and storage
The importance of building a website on a secure network
The importance of 3rd party integration capabilities
How to get robust analytics and reports (because data doesn't lie)
The return on investment with both time and money
What DIY website builder do we recommend?

WordPress. Every time.
WordPress is the most versatile content management system (CSS) out there. It's an SEO powerhouse and it allows you to grow as your business grows.
You might be thinking, "But WordPress isn't easy to use or maintain for beginners, they don't offer great support and I have to get 3rd party hosting and update the software on my own."
That's where we come in!

With DeskTeam360, you can hand over unlimited WordPress website updates/ issues, graphic design, and on-page marketing tasks all for one low flat monthly fee.
The best part: we'll meet you where you are.  It doesn't matter who's hosting your site or what WordPress theme you use. We can help now!
Looking for a new website developer? We also do custom sites, or you can check out our sister-company, Attraction Marketing Project for an easy-to-use DIY website built on WordPress.