A prospect lands on your website instantly captivated by your latest blog post. They're intrigued. The more they read, they more they fall in love with your content and start to wonder who would author such relevant, helpful words. So, they do the next logical thing…
They head over to your about page.
                Wait! People actually read those?
Yes. In fact, statistics show that the about page is the second most viewed page on many websites. And yet, so many people slap up an unforgettable informational biography or a long list of their greatest achievements and call it done. (Hello, snooze fest.)
I don't know if you know this or not, but…
Your "about page" is NOT all about you.
When a prospect wants to learn more about you, what they actually want is an answer to the primal question: "what's in it for me?"
They don't want to waste any more time on your site if they can't validate that you (or your brand) can…
connect with them on a meaningful level
help them solve a very real problem
teach, inspire, or entertain them in some way
Now, there's no secret formula or one right way to write the perfect about page, but there are 7 elements we recommend including on your about page.
Before we dive into the specifics of each element, there are a few things to consider:
How do you want your reader to feel when they read your words and view your page
Who are you passionate about serving?
What core problem(s) does your brand solve for your client?
What is your unique angle? Meaning, how do you stand out in a crowded marketplace?
Answering these questions helps you establish the foundation of your personal brand. We highly recommend going through our FREE Brand Identity Worksheet and Ideal Client Worksheet in our Resource Library, tailored specifically for Network Marketers. These worksheets help you find clarity and enable you to craft a message that speaks to the heart of your perfect customer.

7 elements to include in your about page
1) Grab your reader's attention
You're in the business of building a tribe of raving fans who "get you" — your quirks, your style, your core values and all that you have to offer — so speak directly to your ideal client. You could do this a variety of ways, but here are 3 of my favorites (with examples):
Use a show-stopping headline that piques curiosity
Take Amy Porterfield, for example…
"How I went from overworked 'yes girl' to helping thousands of online entrepreneurs build a life and business they love."
If you're her ideal client, you're hooked and eager to read her story because you too feel overworked, are tired of saying yes to everything and want to build a life you love. #relatability

Boldly share your mission statement
Take Marie Forleo, for example…
"Hey! I'm Marie. An entrepreneur, writer, philanthropist & unshakable optimist dedicated to helping you become the person you most want to be."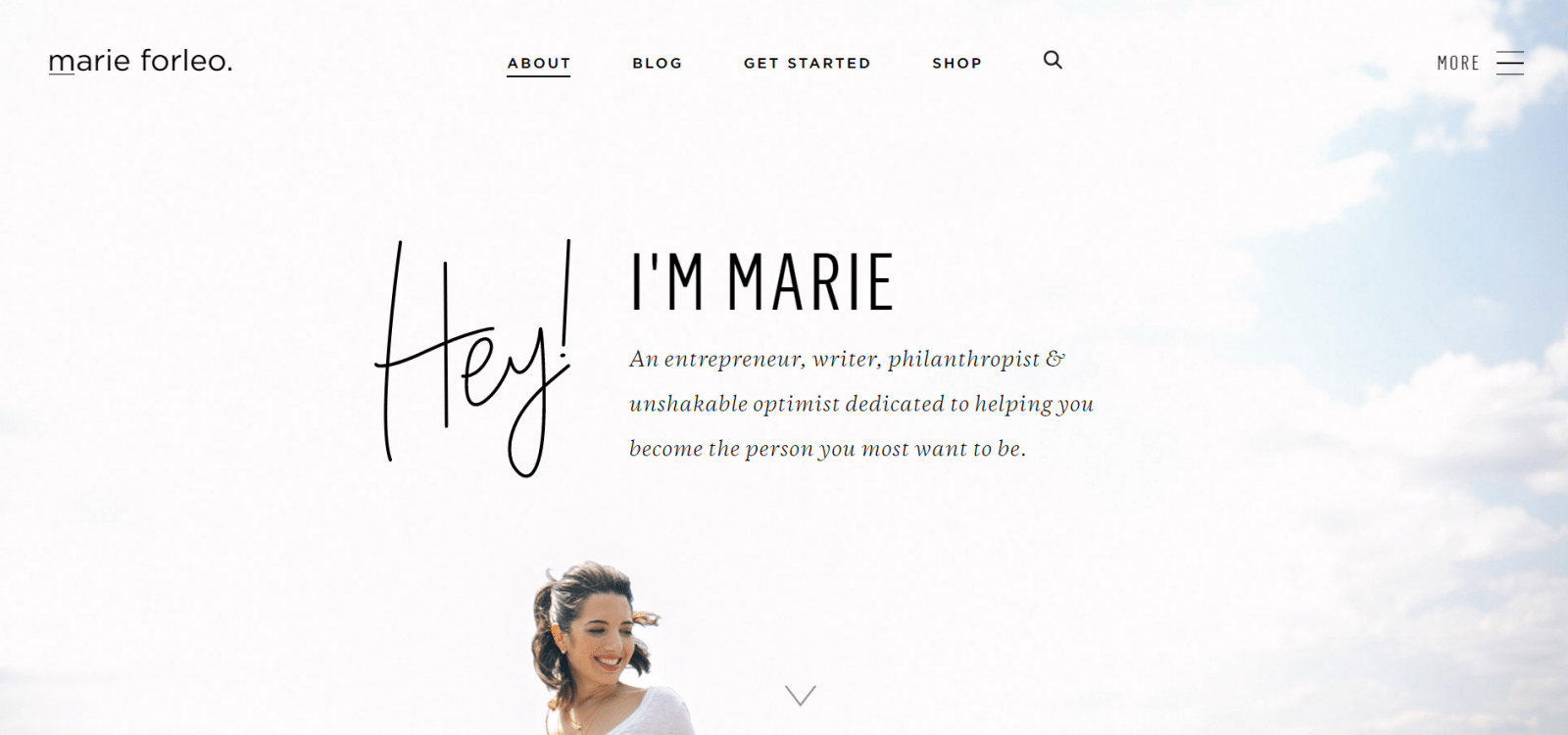 In just 2 sentences, you understand who she is and how she can help you. If you're a pessimist, you've already identified she's not the girl for you, (which is a good thing). Your opening statement shouldn't appeal to everyone. It should either attract or repel your reader so that you only build a tribe of fans who really connect with you.
Ask a question & elaborate with a narrative that paints your prospects struggle, frustration or pain.
Take Screw The Nine to Five, for example…
"How many Mondays have you woken up with that sinking feeling in your stomach? You know what I'm talking about. That feeling you get each morning when you know you have to go to a job you hate. That feeling you try to numb by telling yourself 'At least I have a paycheck coming in.' Ugh. Enough is enough."
An opening like this is so powerful because it confirms what their ideal client fears to be true about their situation.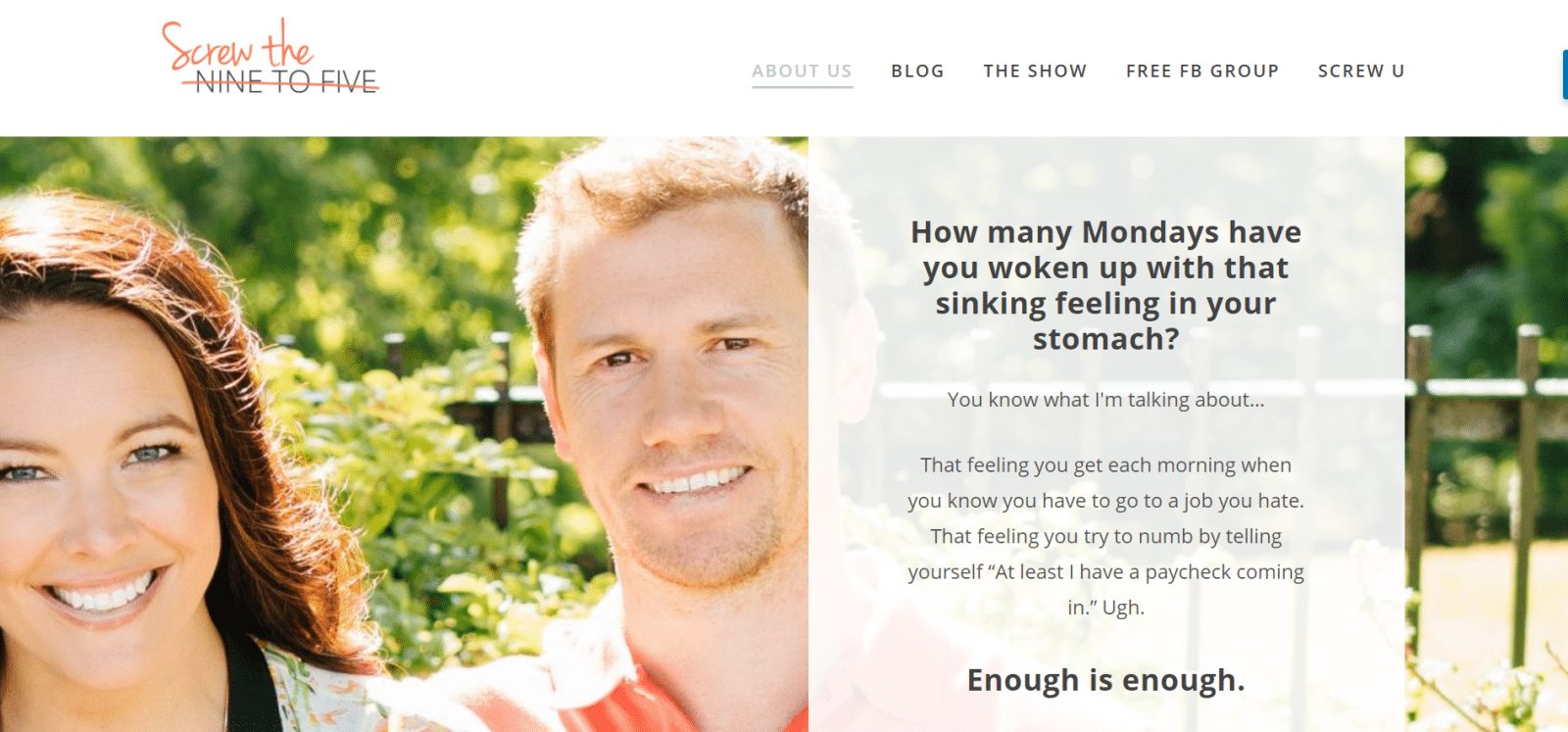 All three examples include a clear message targeted directly to their ideal client, play on their prospects emotions, and hook their reader instantly.

2) Create a visual connection
One of the best ways to share a glimpse of your style and personality is to include a few photos. A well-lit headshot, lifestyle shot or even a glimpse of your life behind the scenes really adds a personal touch. Here are two beautiful examples from Elle & Co. Design & Verity Road: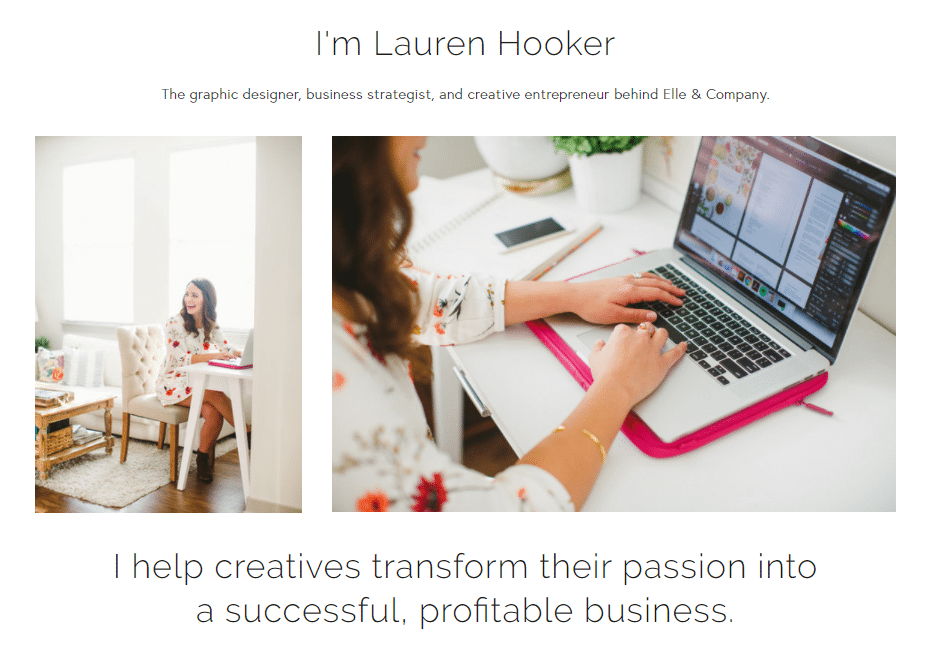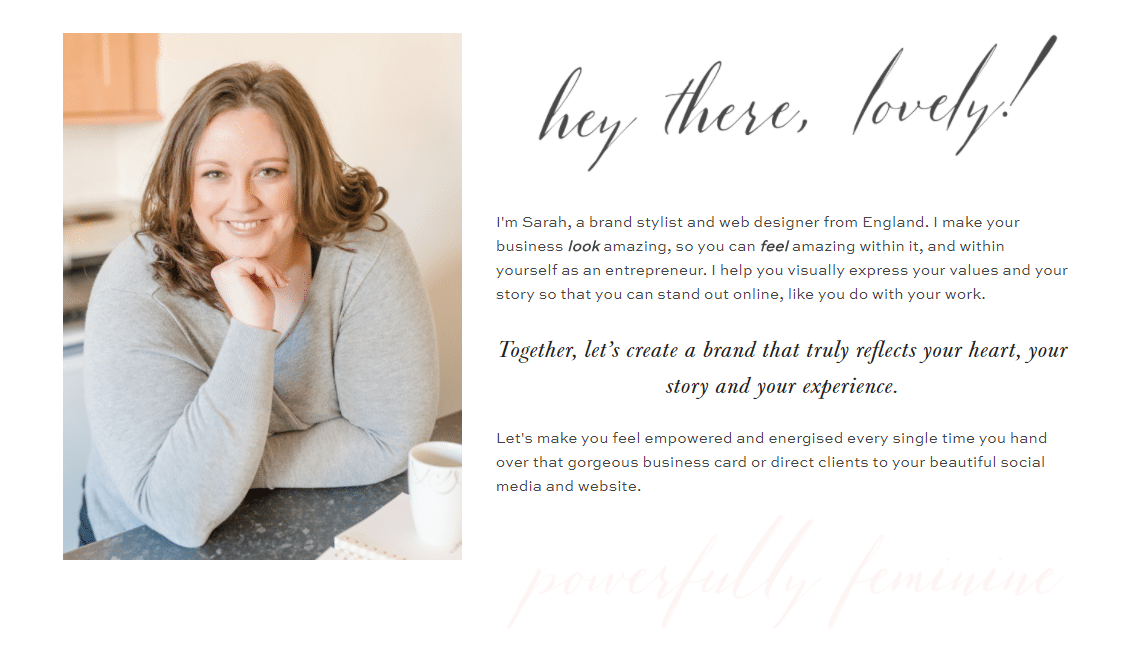 Videos are also a powerful tool because they leverage not only sight but also sound creating a faster connection. Plus, some people don't have the time or patience to read your page, so giving them the option to watch a video allows you to powerfully deliver the same message.
Dr. Danielle Dowling, a certified life coach in Los Angeles, is a great example of how to incorporate both video and a bold statement that speaks to how she serves her clients.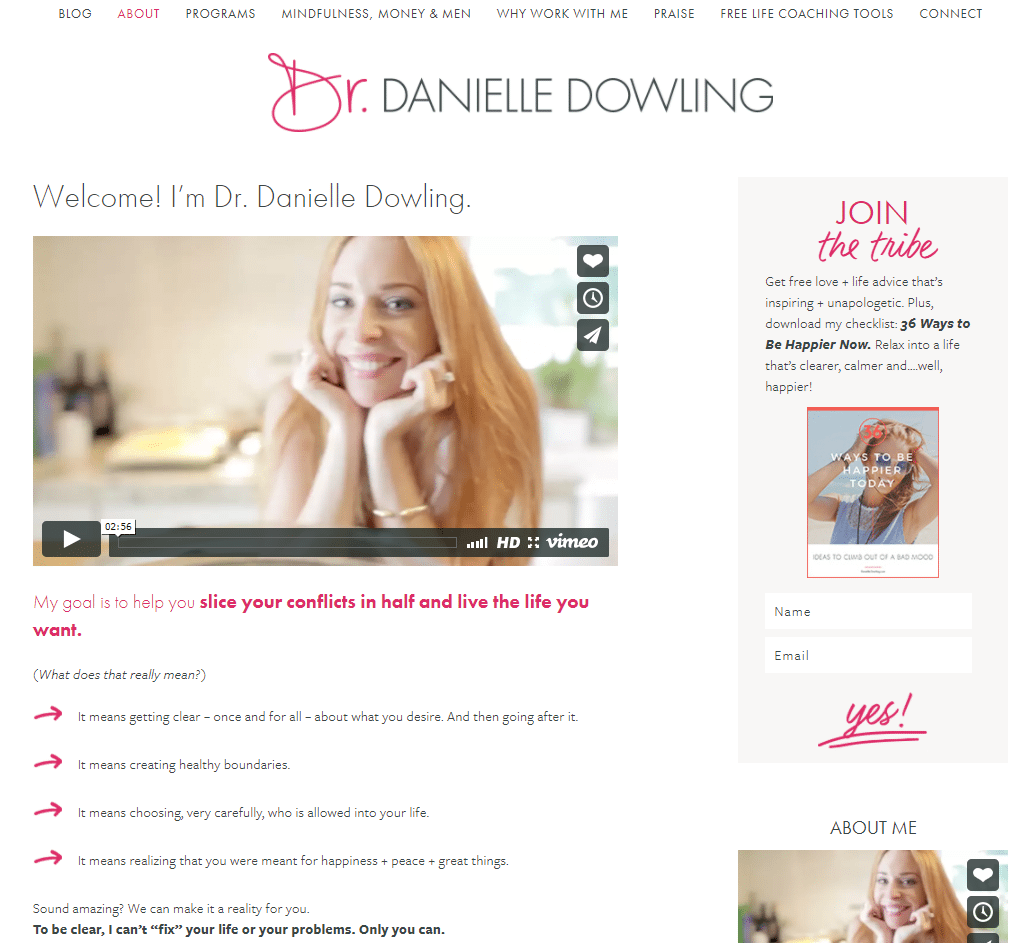 Also, don't forget to break up the text. You're not writing an English paper. No one wants to see a sea of text.
Incorporate different size headings, bold or italic text and the use of color from time to time as well. Your objective is to convey a clear message that is easy to read. So far, every example illustrates a great use of how to break up the text.
No matter which visual elements you choose to incorporate, remember that photos, videos, and readability allow your client to connect with you and your brand on a deeper level.
3) Address who, what, why
Now that you've addressed how you help your audience with a powerful opening statement, people want to know WHO you are, WHAT you do and most importantly WHY you do it.
This is a great place to share your values with your customer by elaborating a little on what you believe and why you launched your business in the first place. One popular way of doing this is telling a story your audience can see themselves in.
When it comes to storytelling on your website, make sure it's relevant to how you made it here (in a position to help your client). No one needs your entire life history. To quote Sweet Brown, "Ain't nobody got time for dat".
Let's look at Vari Longmuir's site as an example. Her about page hits on almost all of the elements, but let's focus on the takeaway related to sharing who, what, why.
Lori highlights the beliefs she holds. Her reader will either agree or disagree, drawing her audience closer to her or pushing them away with the message.
She also validates those qualities she looks for in a perfect client. (Again, attracts or repels!)
Notice her story section is not a novel? Rather, it's filled with relevant tidbits about how she got to where she is today. She ties a lesson back into the important pieces of her story, keeping her client and reader in mind.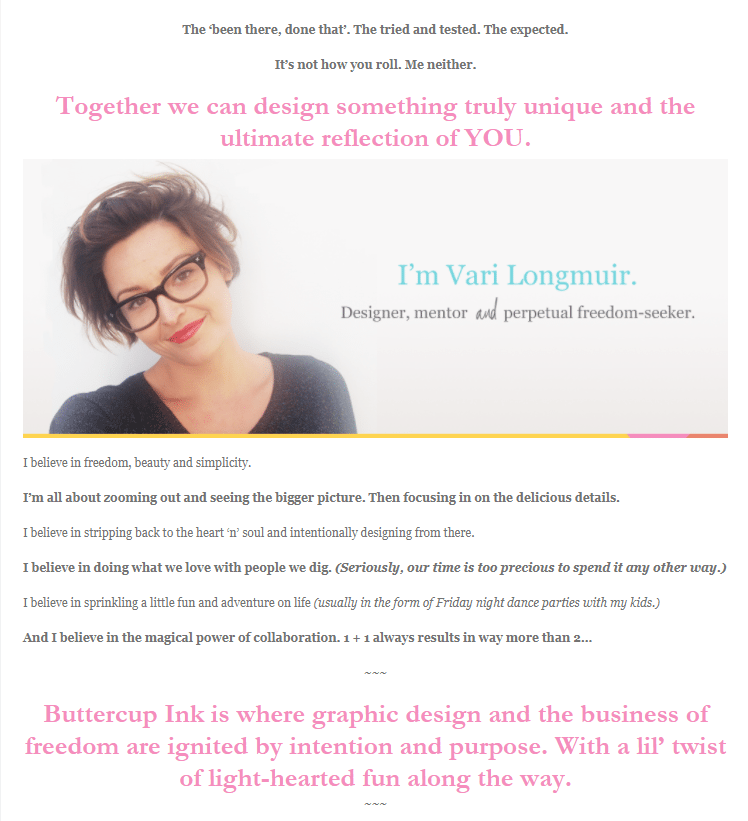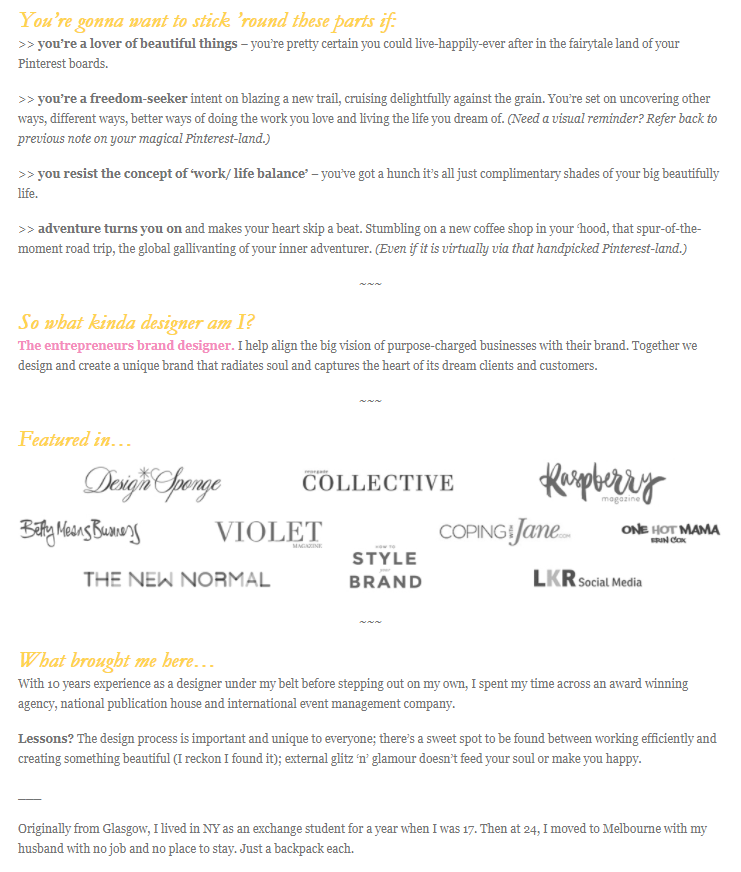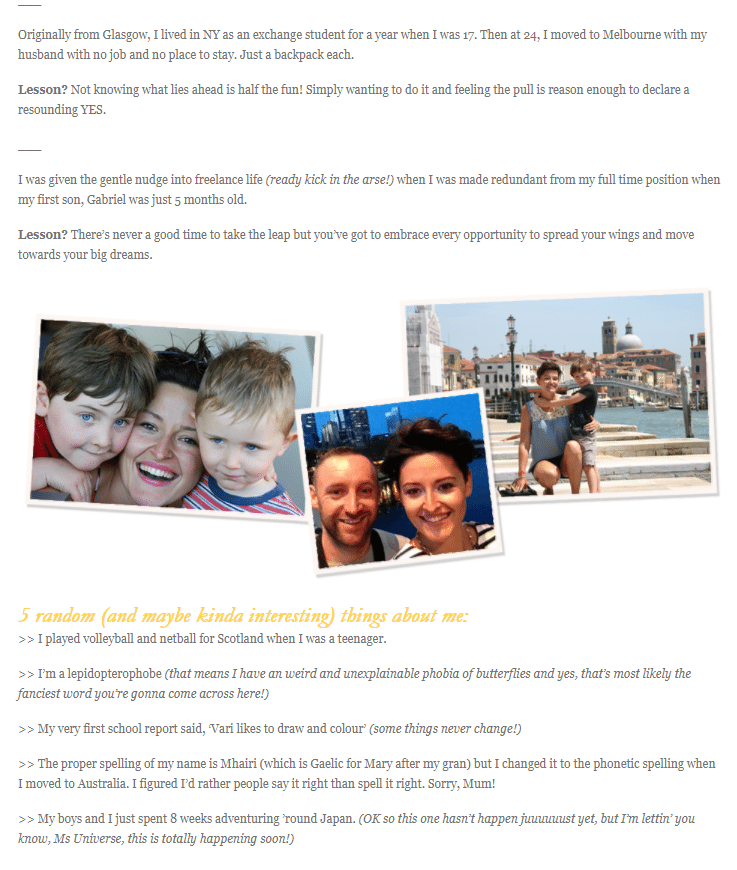 Amy Porterfield takes on more of a narrative, sharing a relatable story about how she got here. Here's one section of her story, but her entire page and story is beautiful; I recommend reviewing the entire thing here, then evaluate which style you like better – Amy's or Vari's.
Of course, those aren't the only 2 styles, so if you find others you're more moved by instead — draw inspiration from those.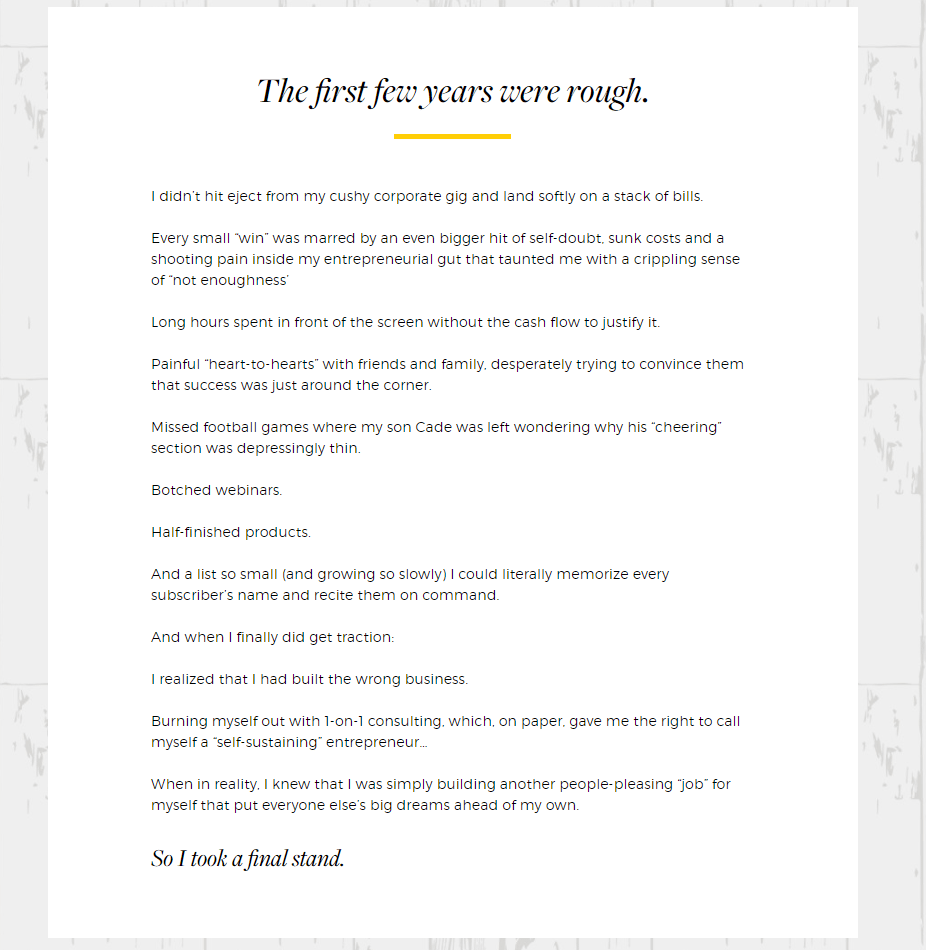 4) Showcase your personality
When you're creating a personal brand, people want to get to know the creative individual behind it all.
Write the way you speak. Infuse humor if you're funny. Use a curse word if your tribe digs that. JUST BE UNIQUELY YOU.
For those who come from a corporate world where everything is polished and professional, including your email correspondence — lighten up. (Unless your clients are into that sorta thing.)
Meet your prospects where they are without compromising or hiding any magical quirks that you have to offer to the world.
Sharing a few random facts about what you love, who you share life with and what excites you just helps build a connection.
Vari listed her random facts all in one section. But you could incorporate tidbits into your text like Melyssa Griffin does: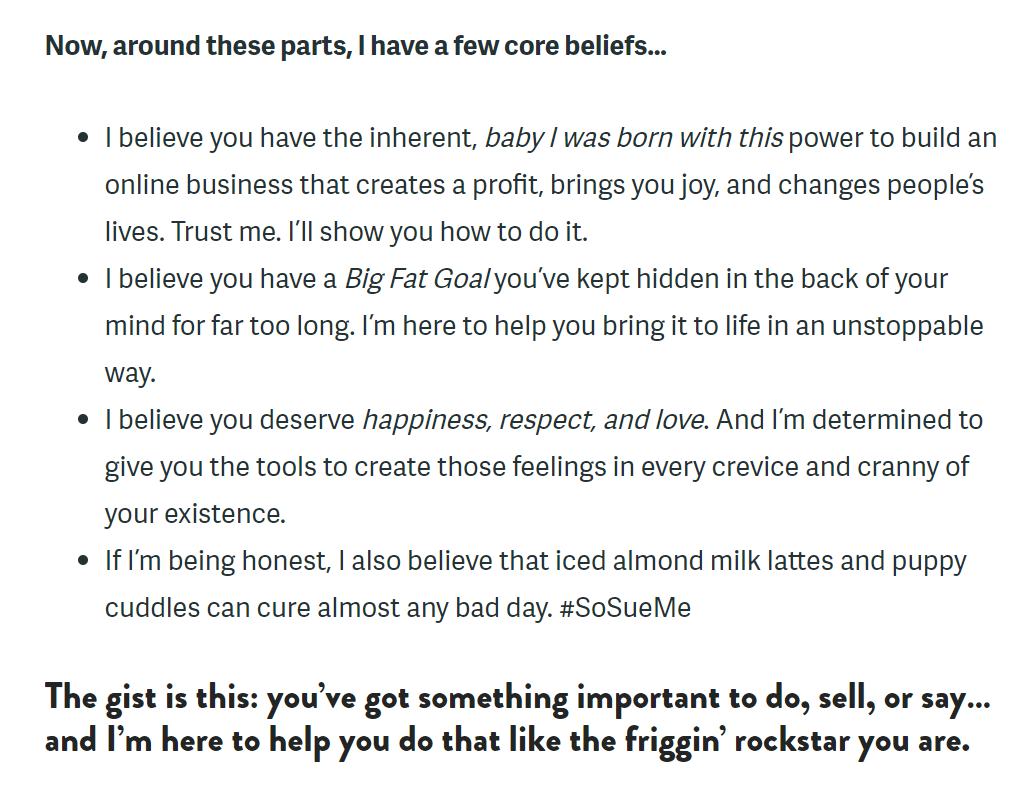 5) Share your accolades
While your about page should be written with your reader in mind, it's also the time to share your achievements! Your prospects want to know why you're the best person for the job (so to speak). So shout from the rooftops, but remember to keep it brief and tasteful. No one likes a narcissist.
You could share your accolades in your story (again) like Melyssa Griffin does: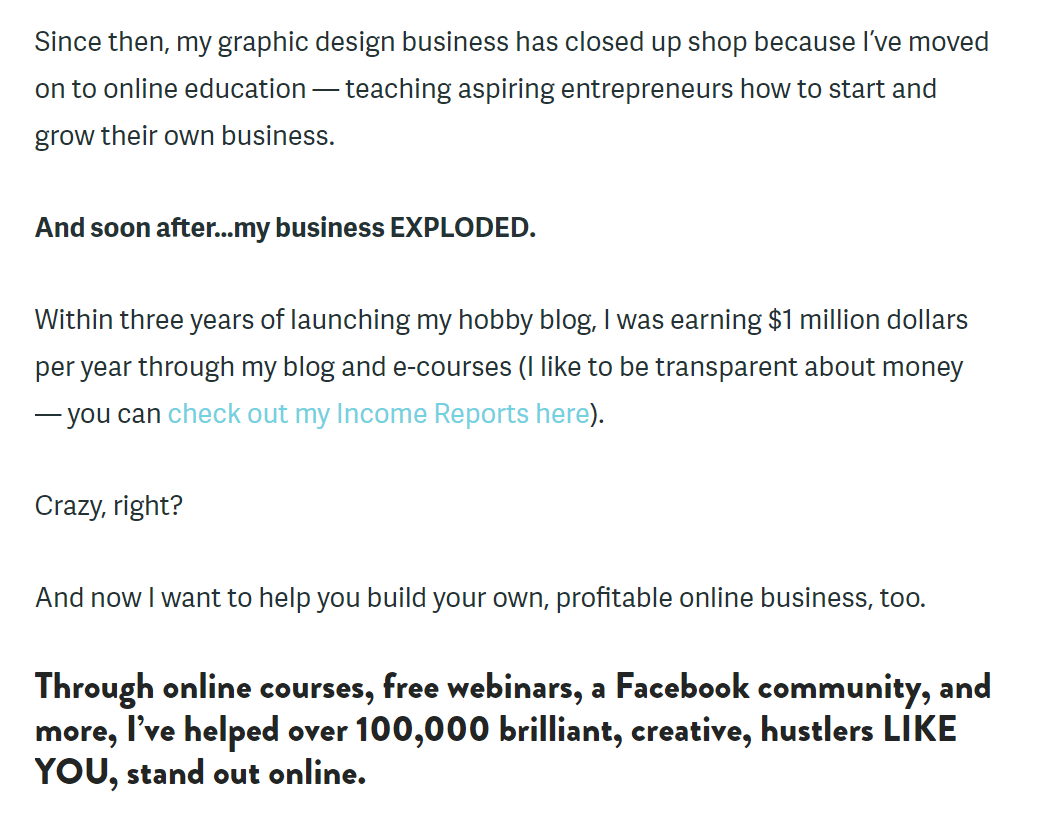 Or showcase which other sites your work has been featured on, like Vari. (Psst…this also provides social proof which we'll talk about in the next element.)

If you're new, don't yet have major achievements to boast, don't have a "finished" transformation – like a before/after or rags to riches story, don't worry.
Use your story to enroll people in your vision about where you're going or what you're out to accomplish. Reiterate how you serve and why you're passionate about making an impact.
6) Leverage social proof
The best way to boost your credibility, with or without a laundry list of accolades, is to leverage social proof. Sprinkle in testimonials such as screenshots of praise you get online, or videos from your clients who love you and your products/ services.
Sharing screenshots or written praise may feel a bit braggadocious, but I can assure you it will build trust with your skeptical client base.
Chris Ducker shares one beautifully and couples it with the 7th element – a CTA:


Now, gathering testimonials takes time as you deliver amazing products and services. If you don't have them yet, don't be discouraged. Ask some friends and family to help you out; have them review your products or services for free or at a discounted rate in exchange for honest feedback. BAM. Testimonials!
Remember, NEVER fake testimonials or social proof —your reputation is all you have in this business. Don't be a fraud or a liar.
7) Include a call to action (CTA)
The final element to include on your about page is a call to action. If your prospect reads your entire about page, they're hooked and ready to know what to do next.
Don't leave them hangin'.
Tell them what step they should take next. You could invite them to read a blog or opt-in to your email list, check out a product or service, join your Facebook group, etc.
Marie Forleo pens her CTA right into the rest of the copy: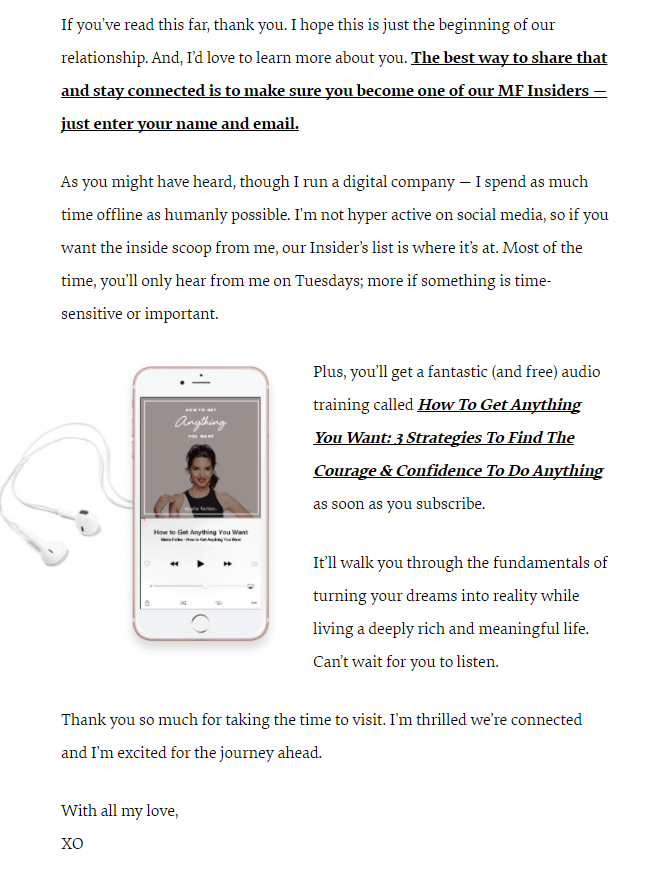 And the Screw Crew gives options about how to get started: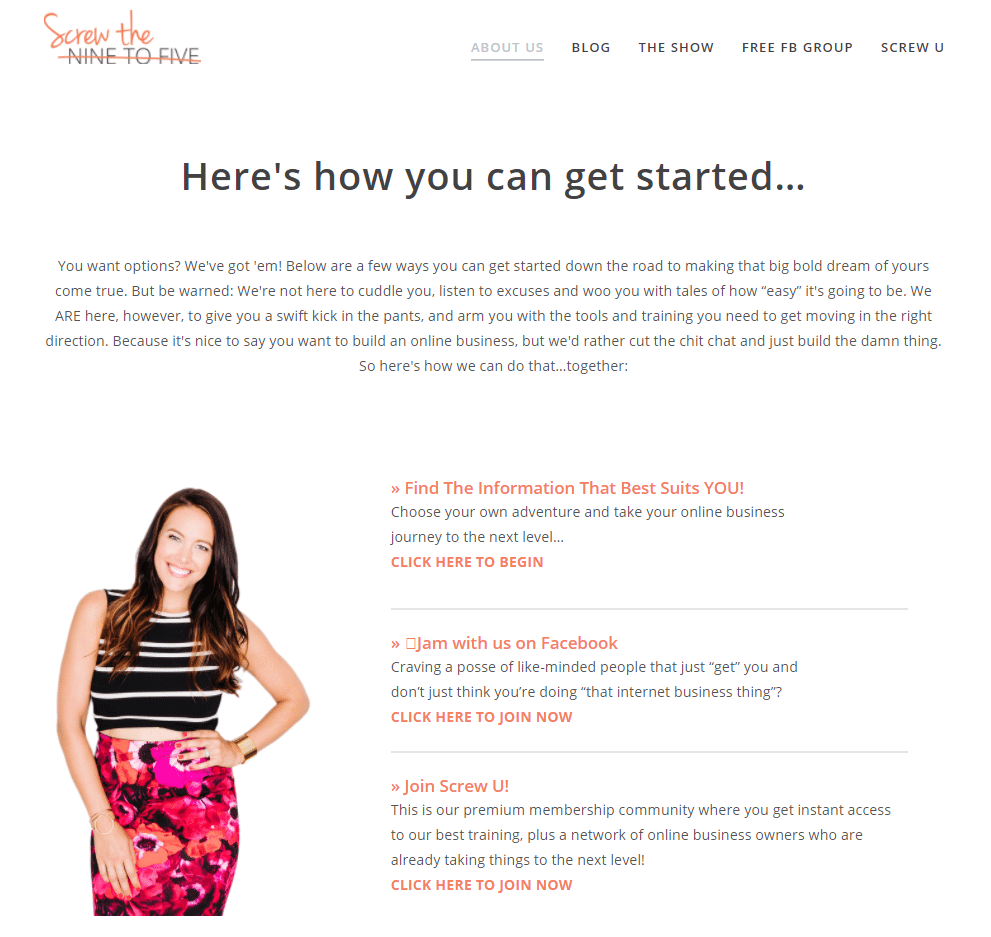 We highly recommend enticing your reader to join your email list so that you can share more valuable content and offers with them long after they leave your site. Newsletters are so 2008; instead, create a PDF guide, cheat sheet, e-book, video series, or something of value that will help your client solve their immediate problem and give it away for free in exchange for an email address.
Effective marketing is about scratching your client's itch. If you're not clear on what's bothering them, you're not going to be able to create something they need or want.
Don't forget to go through the Ideal Client Worksheet in our FREE resource library and explore other helpful tools that will help move your online business forward.

The biggest thing to remember…
There isn't a perfect way to write about page. Get clear on who you serve and speak to them. Be you — quirks and all.
All you can do is align with what feels good and right to you. When it's authentic, your people will love it. They'll connect, they'll join in, and they'll consume everything you write.
---
TAKE THE ABOUT PAGE CHALLENGE & GET FEATURED IN THIS BLOG!
Include all 7 elements outlined above in your own about page and comment with the link once it's published. We'll review the submissions and highlight the BEST examples from our readers. We'll even link over to your page! Remember to include all 7 elements.