Your small business website is a vital tool that can showcase your value and clout to the outside world. Even if you have a brick-and-mortar location, the internet may still be the first way many prospects interact with you so it's critical that your small business website is informative and professional. To stand out from the competition and attract your perfect customers, your small business website should include the following 10 must-have elements.
1. Valuable Content That's Clear and Concise
When a prospect lands on your small business website you have 3 to 8 seconds to keep their attention so it's important to communicate your message clearly and concisely. Too much content, page copy or too many calls to action can overwhelm your prospects, sending them to hit the back button faster than lightning.
Once you have their attention, your website content will keep them engaged, so it's important to create valuable information without being overly wordy. The content that lives on your website should help educate your prospects throughout the customer journey stages of awareness all the way to becoming a loyal customer.
To properly educate your clients, you may need product/ service sales pages, product demo videos, testimonials, infographics and/or blog posts to help them make an informed decision about your small business.
A brochure-style website just won't cut it anymore. Your website needs valuable content that answers frequently asked questions, overcomes objections and educates your prospects so that it will be like having a salesperson working for your business 24/7.
2. Simple Navigation
Your website's navigation menu, (you know, the tabs in the top right corner of the site), guides your prospects to explore the important pages on your website.
Even though you may dozens or even hundreds of pages on your website with valuable information, it's not smart to display all of those pages in your navigation menu. Just like your website content, your navigation menu should be clear and concise, minimizing dropdowns.
You want to control the conversation and information your visitors consume. Avoid overwhelming your prospects at all costs! A best practice is to include between 5 and 7 tabs in your navigation menu.
3. Engaging Calls to Action (CTA)
Adding relevant and useful content to your website is meaningless if you don't invite them to take the next step with your business. That's why your website needs buttons strategically placed throughout your website inviting your prospect to take the next step. A website without calls to action (CTAs) is like having a salesperson who builds rapport and primes the prospect to buy but never asks for the sale.
When placing CTA's throughout your website, be sure to use verbs or commands. For example: Buy Now, Sign Up, Join Now, Get Started, and Learn More invite your prospect to take the next step.
4. Email List Sign Up
Having a website visitor leave your site without capturing their email is like going to a bar, flirting with a hot guy (or girl) and leaving without their phone number. Capturing your visitors' email addresses is the best way to develop a relationship with them long after they visited your website and still offers the best reach and conversion rates compared to social media.
Newsletters are so 2008 though. People don't want more "news" cluttering up their inbox. Instead, you need to offer an incentive to join your email list by first giving away valuable information that helps your ideal client scratch an itch. This could be in the form of a checklist, cheat sheet, demo, exclusive discount code for first-time visitors, audio file, video series, ebook, case study, fill-in-the-blank worksheets, free challenges or mini-courses, webinars, free trials, swipe files, etc. While they sign up for your free gift, you can also get their consent to be included on your general mailing list.
5. Cohesive Branding
The design and visual aspects of your business are important. To appear like a credible business, the first step is to create and invest a professional, secure website and high-quality logo. On your website and any marketing materials you produce, make sure to use the same color scheme, use a maximum of 2 to 3 fonts and photos that look/ feel similar to each other so that your customers can recognize and distinguish your brand from the others.
Branding is not only the visual aspects of your small business but also the whole feeling your customer gets when he or she interacts with your business in any way. So don't forget that the way you write your emails, blog posts, press releases and more all play an important role in your branding.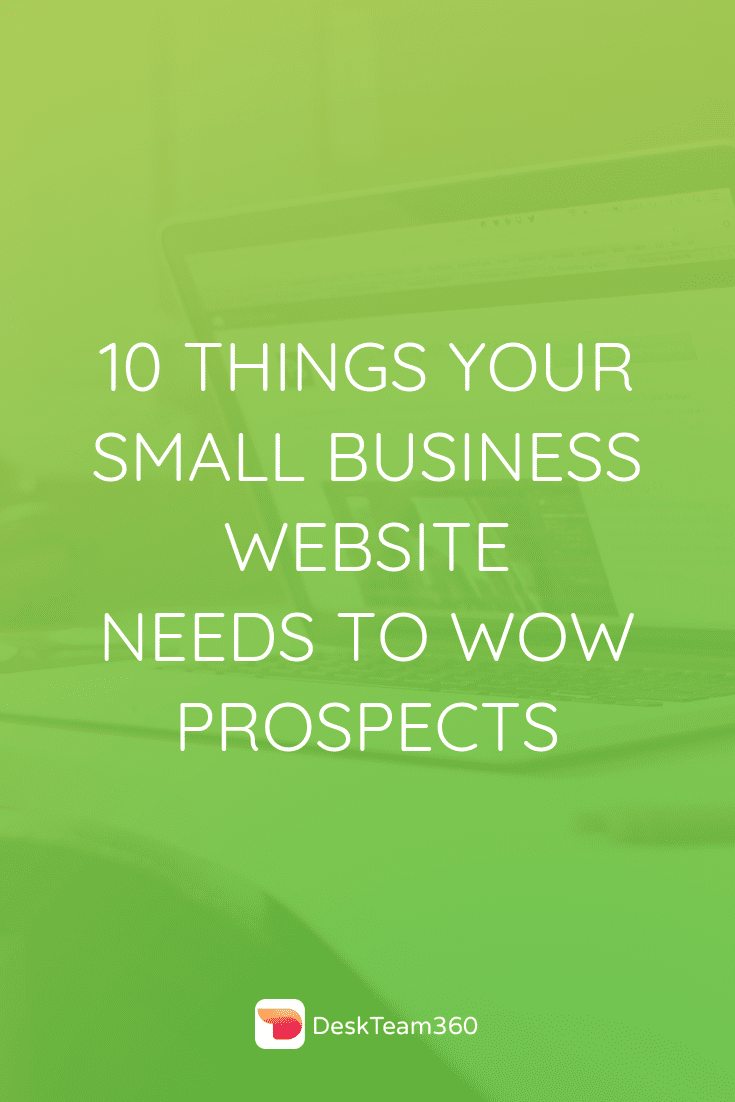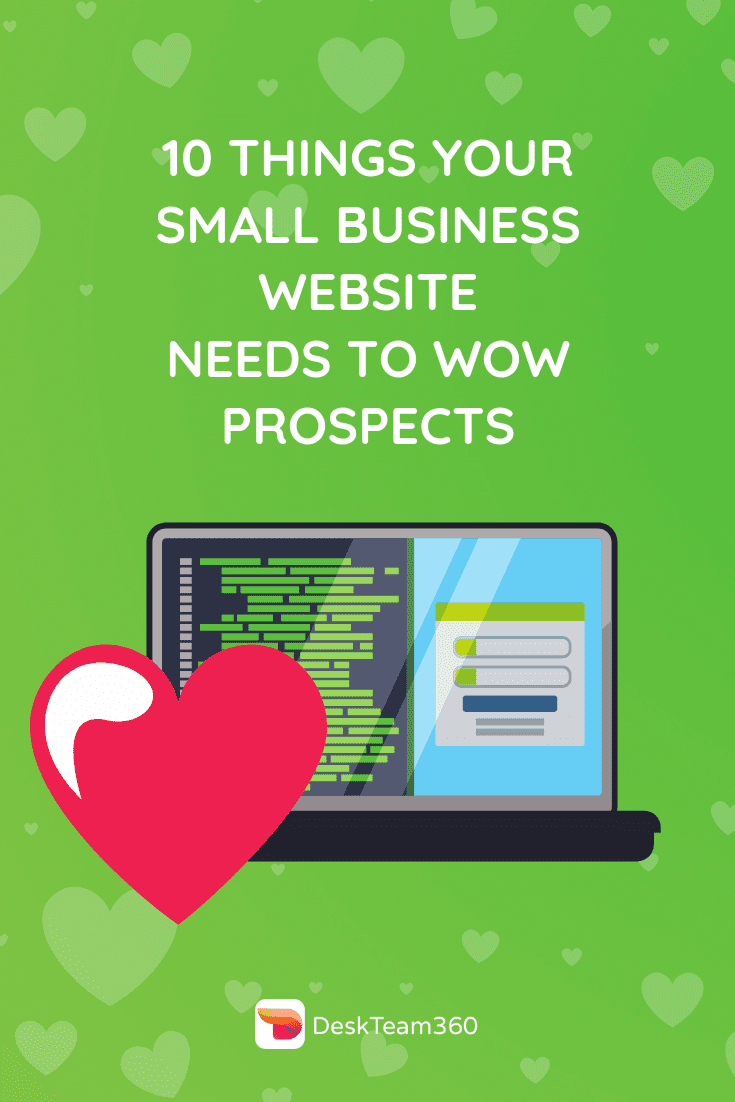 6. Social Proof
Showcasing customer testimonials or praise from leading industry experts can influence your prospects' opinion about your small business. Studies show nearly 70 percent of online consumers look at a product review prior to making a purchase and product reviews are 12-times more trusted than product descriptions and sales copy. Needless to say, it's important to display social proof throughout your website.
You can blog about case studies, highlight video testimonials, share reviews, and screenshot social media comments. If you've been featured, mentioned or contributed to leading industry news outlets, showcase their logos. You can also share data and numbers to build up your credibility.
7. Obvious contact information
The goal of your website is to get more qualified prospects or customers. Naturally, you want to make your contact information obvious. If you want your phone to ring, display your phone number predominantly. If you want to grow your email list, make sure your opt-in incentives are strategically placed above the fold of your website and on the sidebar of your blog. If you want more web form inquiries, make your contact page or form easy to access with just 1 click.
If your business exclusively sells e-commerce products, include your contact information in the footer of your website in case they have questions or link to a customer service page in the product descriptions. The bottom line is that you don't want to send your prospects on a goose-chase trying to get in touch with your business; that will turn them away!
8. Mobile Friendly/ Responsive
The trend towards using mobile devices and tablets to browse the internet is accelerating with better screen quality, faster internet connections and widespread availability of wifi networks. For small businesses, this means that your website needs to look good on desktops, mobile and tablet devices.
If you're not sure if your website is mobile friendly you can use Google's Mobile-Friendly Test, or take a look at your website on a smartphone to check. If you're doing a lot of pinching and zooming to see content, chances are it's not mobile friendly.
If your existing small business website doesn't pass the test, you'll want to consider redesigning your website as soon as possible because 94% of people with smartphones search for local information on their phones.
9. Optimized for search engines
Speaking of people searching for local information, your small business website needs to be optimized for search engines like Google and Bing so that your business shows up on the first few pages of the search results.
Basic Search Engine Optimization (SEO) best practices include:
Adding rich, high-quality content to your small business website regularly
Using targeted keywords that attract your ideal client
Managing on-page SEO like tags, meta descriptions, titles, and the URL
Since SEO practices are constantly evolving as technology and algorithms change, so you may want to consider hiring a professional specializing in SEO for local businesses.
10. Links to social platforms
Since your website is the home base for all of your marketing efforts, it's important to link all of your online presences together by adding your social media accounts. For your prospects who aren't ready to buy from you just yet, linking to your social accounts is just another way to stay connected. Since your primary objective is to keep visitors on your small business website for as long as possible, keep your social links small in the header or footer of your site. You could also include a Facebook Like Widget on your blog sidebar that allows people to like your FB page without leaving your website.
What's Next?
If you already have a small business website but are missing any of these 10 must-have elements, create a game plan to update your website in the areas you're lacking and start implementing those changes today.
If you need someone to help execute your new website updates and changes, DeskTeam360 can help!

Deskteam360 helps you offload unlimited design, technical and on-page marketing tasks every month so you can execute your ideas faster and focus on growth.
Access experienced designers, developers, marketers, and technical admins from around the globe without managing the people or the process.
Instead, your personal account manager, based here in the USA, will take the lead! They'll find the right person on our team to get the job done, manage your unlimited tasks and communicate with you exclusively.