Since your dream customers are starting their search online, your small business website is the most powerful tool you have to make a lasting first impression, captivate your prospects and turn them into customers.
If you have a website that is cluttered, hard to navigate, slow to load, or simply outdated, you're sabotaging your small business, leaving the wrong impression and turning off potential customers.
If you feel embarrassed to share your website address with prospects, clients or colleagues, chances are one of the following four critical elements needs a refresh on your website: design, content, user experience or technical elements.
Let's take a closer look at each of these elements and evaluate whether or not your small business website is showing signs that it's time for an update.
DESIGN
When prospects land on an outdated or cluttered website, it sends a message to them that you're a business who doesn't care. What's worse, it sends the message that you're not a credible company. According to Stanford, "75% of users make judgments about a company's credibility based on their website design."
The site's design doesn't just impact perception, though. According to Adobe, "38% of people will stop engaging with your website if the content or layout is unattractive."
So ask yourself…
1. Overall, does our current website look modern, current and up to date?

2. Does the website appear neat, clean and tidy as opposed to messy, unorganized and cluttered?

3. Are we using appropriate colors and fonts for the audience we're trying to reach?

4. Are the photos and graphics on our website professional looking and high resolution?

5. Do the photos and graphics resonate with our target audience and match our unique brand?
If you answered no to any of those questions, it's safe to assume your small business website isn't sending the right message to your prospects and clients and it's time to consider a website facelift.

CONTENT
A few years ago it was acceptable to create a website to function as an online business card or brochure, but in today's fast-paced market, websites that simply serve as brochures are no longer competitive.
The content on your small business website should do more than state how someone can contact you. Instead, it needs to educate, entertain or inspire your audience. It should help your prospects solve problems or answer questions and be easy to consume.
Adding relevant and useful content consistently to your website will boost your business' credibility in both the eyes of your prospects and with online search engines.
Additionally, content marketing is a cost-effective strategy. According to Demand Metric, "Content marketing generates 3 times as many leads as traditional outbound marketing but costs 62% less."
So, ask yourself…
6. When was the last time we updated the content on our website?

7. Do we have an ongoing content marketing strategy in place?
If you've been slacking with relevant and useful content on your website, get with your key team members to map out a new content marketing strategy. Decide who will be in charge of writing content each week and who will be in charge of updating the website with new posts, products or services.
Remember, while your website's design initially grabs your prospect's attention, your content will ultimately keep them on your website and inspire your audience to take the next step with your small business.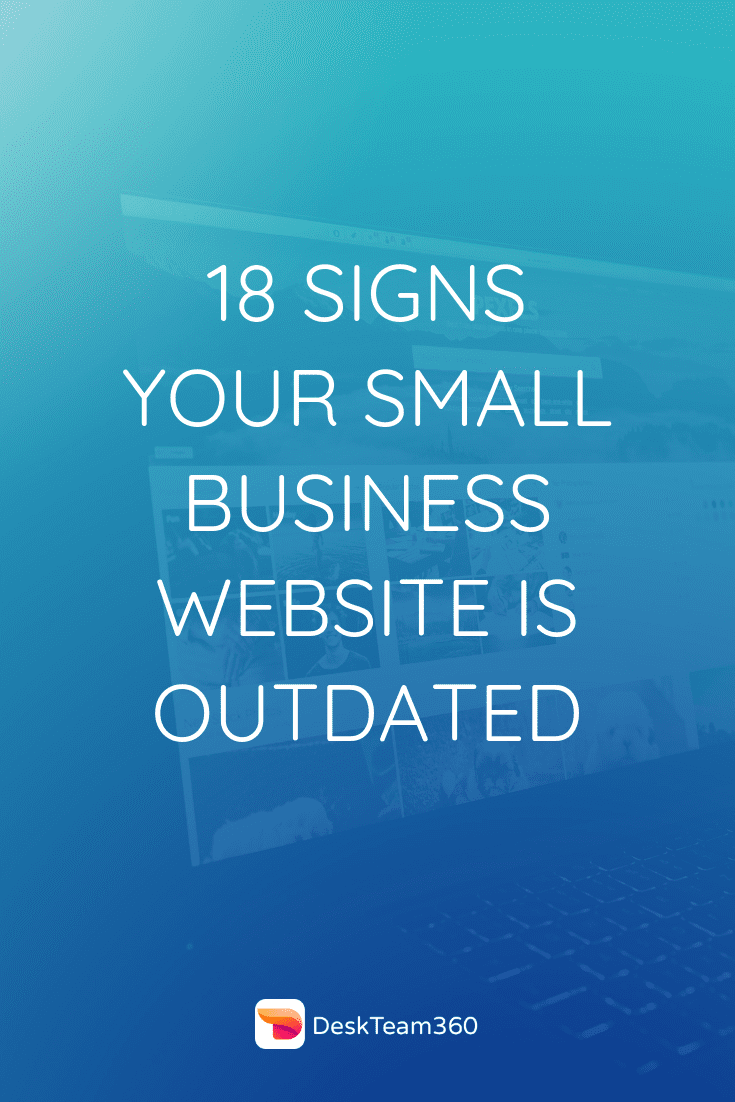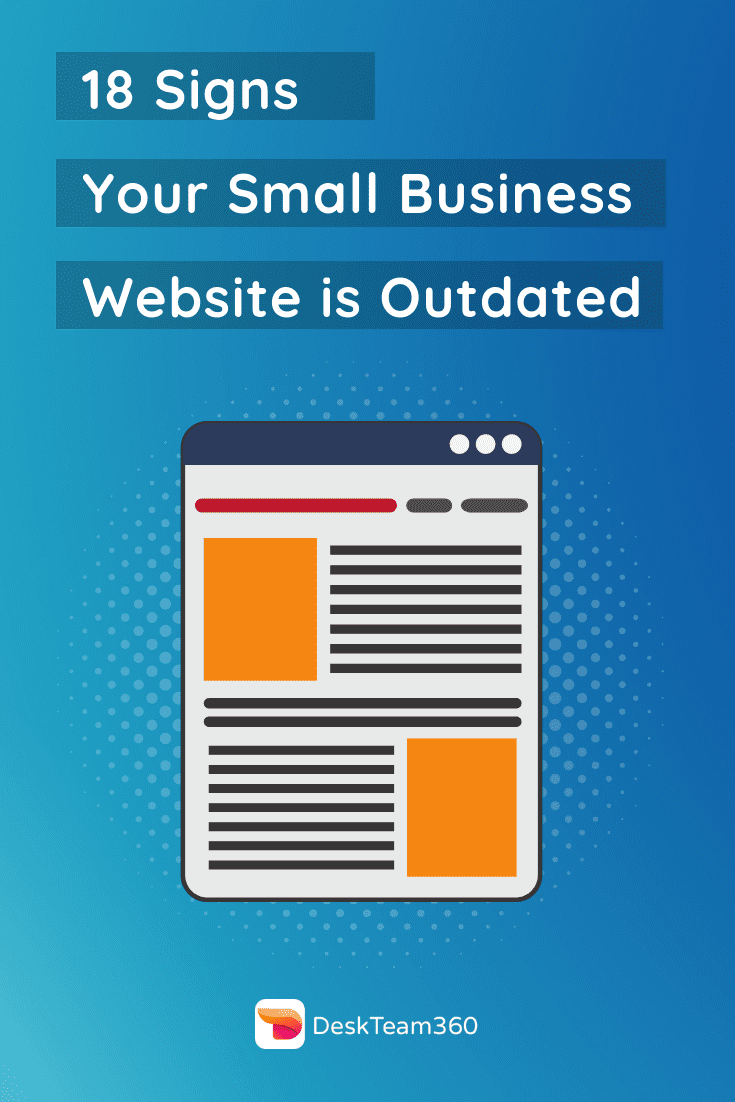 USER EXPERIENCE (UX)



In addition to design and valuable content, your website also needs to provide a friendly user experience.
A friendly user experience begins by making it easy to access your website from any device such as smartphones, tablets, and desktops. Nowadays, 80% of internet users own a smartphone and 69% of their media time is spent on smartphones. That means it's imperative that your small business website is responsive and mobile-friendly.
A good user experience means your website includes clear calls to action and is organized and simple navigation. Today's tech-savvy consumers simply won't tolerate ambiguous, cluttered or organized sites. And no user ever enjoys broken pages or links either. Chances are if your website doesn't have a friendly UX, your visitors are clicking furiously on the back button.
So ask yourself…
8. Is our website easy to navigate with less than 7 navigation tabs at the top?

9. Is the content on your website easy to view and consume rather than long blocks of text that are hard to decipher?

10. Does your website show broken links or missing/ incomplete pages?

11. Are your contact, about, and product/ service pages easy to find with only one or two clicks?
If you answered no to these questions, chances are your user experience is difficult and confusing to navigate.
Visitors to your site probably can't easily find what they are looking for. Your content might be long and hard to sift through. Users don't know what to do next with your company without a clear call to action, which is most likely hindering sales on your site.

TECHNICAL ELEMENTS

Your website could have a beautiful design, great content and a friendly user experience (UX), but could still be outdated if your site…
Loads slow
Displays unwanted sounds, videos or popups
Has clunky URL structures
Omits links to your social media sites, or
Overuses annoying pop-ups.
Not to mention, if you're still using Flash, this is a big red flag and major sign to updated your website ASAP! Flash is slower than HTML5, which means that it could be causing the slow page loading times. It's also not universally compatible, so wherever you have flash on your site, users will require a flash player to see the content. With more people using their mobile phones and tablets to browse the web, if you use Flash, you are restricting content access to a large portion of potential users.
Lastly, we'd have to say the biggest technical faux-pas of all is not showing up in search results. Optimizing your website for search engines can be a bit tedious and may require some targeted strategies, but the bottom line is that you're missing out on organic (unpaid) traffic if you aren't at the top of page rankings.
Use a free tool like Moz to help identify your search engine rankings for your key search terms. Search engine optimization is complicated and always changing, so if you're struggling to rank well, make sure your website is designed to be optimized for search engines and consider talking to an SEO expert. After all, your website should help your business grow!
So ask yourself…
12. Does our website load within 2 seconds or less?

13. Does my website have sounds or videos that play automatically?

14. Is my URL structure easy for your audience to understand what the page is about?

15. Does my website include links to my social media profiles?

16. Does my website have annoying, over-used pop-ups?

17. Does my website use flash?

18. Are my web pages ranking in search engines?
If you answered no to these questions, again, these are clear signs it's time for your small business website to get an update!
So, What's next?
If you answered "No" on any of the 18 questions, you now have a list of things to fix on your small business website to bring it to a passing grade.
Don't have time to make these changes to your website? DeskTeam360 can help.
As a Deskteam360 customer, you can offload unlimited design, technical and on-page marketing tasks every month so you can execute your ideas faster and focus on growth.
The best part: we meet you where you are. Simply grant our team access to the tools you already have in place and we'll take it from there. No need to change your website platform, email provider, or other favorite online software.
Ready to get started? Hand over your 1st task today.